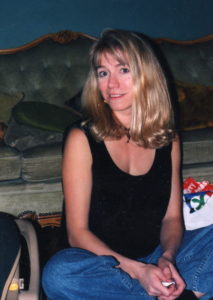 Professor Michelle R. Kendrick PhD., 42, had a raucous and irreverent sense of humor and there were few dares she ever backed away from. A bumper sticker on the back of her truck–"Are you going to cowboy up or just lie there and bleed?"–speaks volumes about the way she lived her life.
A Latina from a working class background, Michelle grew up riding horses, and moved on to motorcycles and marathons while pursuing a doctorate in English at the University of Washington. After earning tenure at Washington State University Vancouver and enduring two rounds of chemo, she rediscovered her passion for horses. Michelle was still training her thoroughbred Elvis well into her third round of treatment and, like always, when she got thrown, she got right back on.
A brilliant scholar who had a visceral hatred for war and injustice, Michelle established the program in Digital Technology and Culture at WSU Vancouver. She taught and published on subjects ranging from diversity and multiculturalism to media representations of war. Her book, Eloquent Images: Word and Image in the Age of New Media, was published from MIT Press.
Michelle and David Smith fell in love when he began accompanying her to chemotherapy. They were married for the last two years of her life.
Michelle was a loving and devoted parent to her children Griffin and Sofia and stepdaughters Eliza and Emma.
Michelle died September 30, 2006 after a courageous five-year battle with ovarian cancer.